These Shek O Dog Department's dog bed covers are made of 90%cotton & 10% polyester fabric which is beautiful, durable and machine washable. Each cover is handmade with love and dedication in accordance to your preferences.
Our standard sizes
Please select from our drop down menu, your choice of bed size and fabric.
Small: 80cm(L) x 60cm(D) x 15cm(H)
Medium: 100cm(L) x 80cm(D) x 15cm(H)
Large: 120cm(L) x 100cm(D) x 15cm(H)
All our beds are customized. If you prefer a different size, please feel free to contact us (riina @ shekodog.com).
Features
● Finished inner seams
● Heavy duty zipper closure in long side of bed for easy pillow insertion
● Lined gussets
●  100% cotton internal pillowcase (with zipper)
● Washable in cold (30C) with a mild detergent. Air/line dry.
Please note that our beds do not include stuffing (except in Hong Kong). You can stuff them with old sleeping pillows, towels, bean bag-filling, foam, or anything else that your hound might enjoy!
Color
Please note that due to the differences in computer monitors the actual colors may vary slightly of these colors below.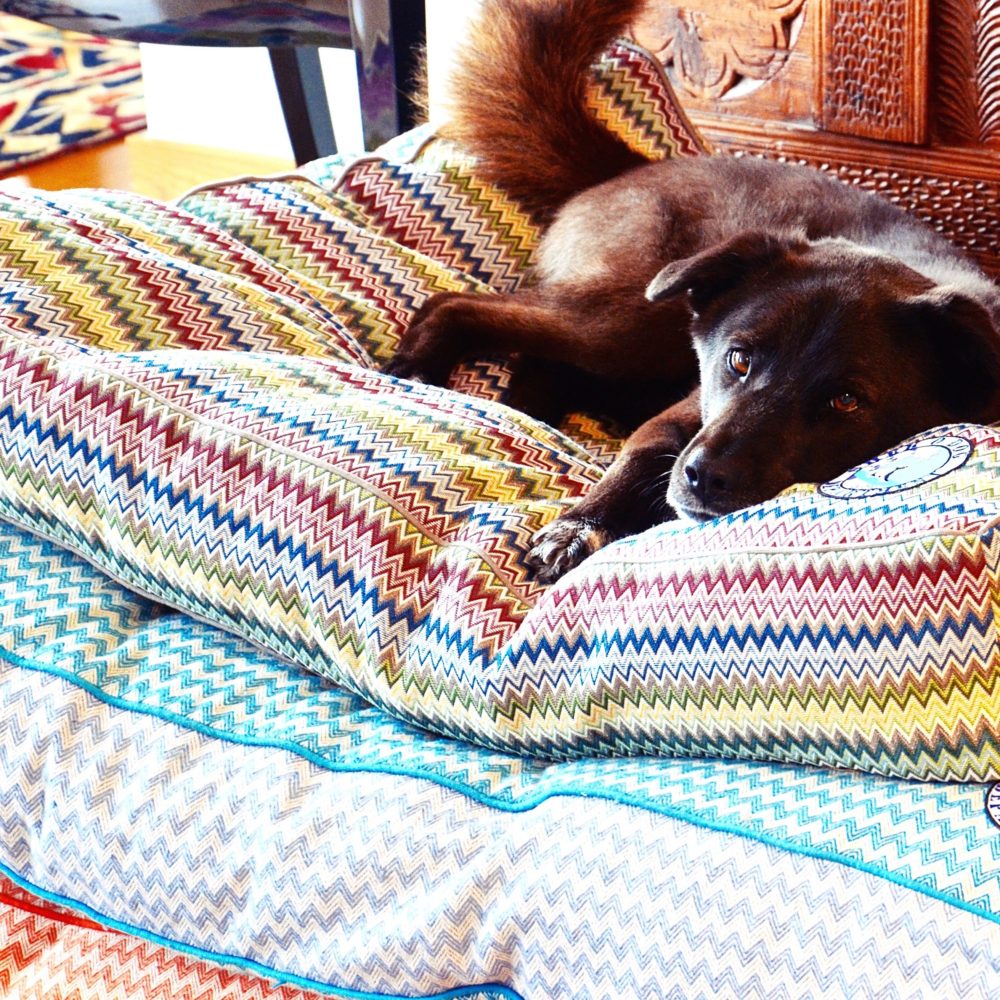 Piping Colors
Prices Worldwide (including bed cover & delivery & 100% cotton internal pillowcase)
Small       (80cm x 60 cm x 15 cm)      €85
Medium  (100cm x 80cm x 15cm)      €105
Large       (120cm x 100cm x 15cm)     €120
Please note that all import duties, taxes and Brokerage Fees are the responsibility of the BUYER.
More information on duties (in Finnish) can be found here.
Our beds do not come with internal pillow (except in Hong Kong), but they all include internal 100% cotton pillowcase for easy stuffing/washing.
Payment and Shipping
Payment is due at time of purchase, if not received within 5 days sale will be canceled.
We ship using first class mail.
All our dog bed covers are "made-to-order," so please allow two to three weeks for delivery after payment clears. Please be assured that we do our very best to get your order out on time and keep you informed if there were to be any delay.
Refunds and Exchanges
We aim for perfection. Hence, in the unfortunate situation that our products do not complete your requirements, we do accept returns.
Items are returnable within five (5) days of receiving them, unused and in the original package (if possible). The buyer must pay for return shipping. We will exchange the product, or issue a refund less any seller costs such as PayPal fees.